Karen and Jeff's wedding was an absolute blast! This couple is insanely fun. Look, I don't know how many times we've said this, but this is why we love New Orleans Wedding Photography! You can really get a sense of just how fun these folks are when you hear their story.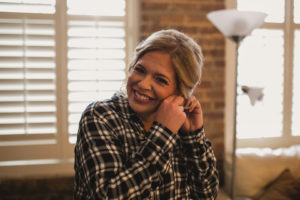 Jeff grew up in Houston, but moved to Colorado after attending college at Texas Tech University. Karen was from Iowa, and moved to Washington, DC after college. Her job then moved her to Colorado— according to Karen it was in the sweet spot. "The whole town has since gone to shit," she says.
Karen says she met Jeff "the old fashioned way– at a bar during the weekend of the Great American Beer Festival in Denver circa 2012." As she puts it, Karen was playing a game "in which I would dance behind people until they noticed, then walk away." Jeff was one of these people, only she assumed he was "mesmerized by her moves" as he joined in on the game. They've been dancing ever since.
The wedding and ceremony were held at the Chicory, which proved to be the perfect venue— it was versatile enough to accommodate both parts of the night. After a romantic, candle-lit ceremony, the space easily shifted to accommodate an amazing reception. With a couple like Jeff and Karen, a great party is to be expected!